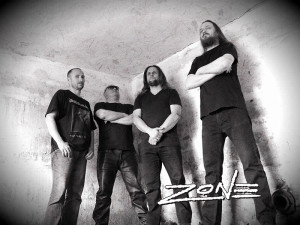 ZONE is a Czech – Polish metal band, where he met musicians playing different styles in their home bands. Vocals and bass Sebastian Bartek, who plays in the Polish death metal band CORTEGE and before that for a long time played with the band UZIEL. Lead guitar talented guitarist Lumír Kromer, known from DEMIURG playing technical death metal. Rhythm guitar black metal Azazel known from lengthy tenure in the band INFERNO and is currently tied with another black metal horde SILVA NIGRA. Sitting behind the drums older Azazel´s brother Digaz, he was play guitar Friday 13, WHISPER and banging the drums for karvinské thrashers OLD. The band not play orthodox style, but uses the power of metal music. Currently we are finishing the first CD, "World is Vain" and outside is a video clip for the song "My Closest Enemy", produced by dark cinema enthusiast Luke Bulava – (Horrorwatch)
Videoclip Info:
New Czech – Polish band ZONE presents the debut video "My Closest Enemy" produced by an
enthusiast of the dark side of the cinema, Lukas Bulava – (Horrorwatch). Music by Digaz, lyrics
by Sebastian Bartek. Special thanks to the guys from Bloody Obsession (cult corpses).
Sebastian says, that the lyrics is about a man who has very serious mental disorders. He has
constant visions in which his relatives and friends die. He can't stand it because each and
every day is a torture for him, so he finally decides to commit suicide.
Members:
DiGaZ – Bicí
Azazel – Rhytm Guitar
Lumir – Lead Guitar
Sebastian – Bass / Vocal
Contakt:
zone.metalband@gmail.com
Official Video:
//youtu.be/gS0P4Ya-v80