Symphonic Power Metal Track Will "Endure"
"LeGrand Bruit" release their debut single, "Endure" to rave reviews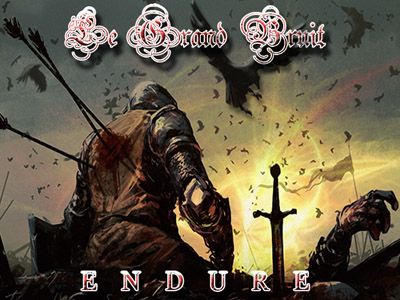 Nashville-Davidson, United States,May 29,2013/Free-Press-Release.com/ — The brain-child of Nashville Power Metal band, Oblivion Myth; Ray LeGrand hatched the idea for a Symphonic Power Metal recording project in the midst of a lineup change for his main band back in late 2012. "We just didn't think things would come back as quickly as they did for Oblivion Myth. I am pleased they did, but am equally pleased that I was able to record 'Endure' with LeGrand Bruit" said LeGrand from his home just north of The Music City, Nashville, TN.
In addition to the OM front man, LGB also features Ray's son, Ray III and brother Justin. The three wrote and recorded 'Endure' in Justin's home studio just as a means of stretching their creativity and capitalizing on the orchestral scoring that Justin has been involved with in recent years.
'Endure' was mixed by Grammy Award Winner, J.R. McNeeley (UnderOath, Paramore, Demon Hunter) in Nashville and received the final touch of mastering by Power Metal vocal hero Lance King (Pyramaze, Avian) at Nightmare Records.
After mastering the track, King was quoted as saying, "I'm hyper-critical of vocalists as you might guess. Ray has a 'manly tone' very warm, yet powerful. Credit where credit is due, he didn't just start singing that way, he earned it".
Likewise, vocalists across the board have been praising 'Endure' and on more than just vocals;
"Killer stuff!!! Symphonic supremacy!!! From the Double kick madness to the Ryche-like vocals with steller guitar work and thundering bass, LeGrand Bruit's debut is a force on the horizon. Give a listen and let the sound saturate you."
– Kevin Goocher, Omen / Phantom-X
"Endure has everything a great modern metal song needs, from world-class production, to the strong soaring melodies of vocal master Ray LeGrand. The songs delivers on all fronts!"
– Marz Nova, The Worshyp
"This epic tune makes me feel like a hero of a great adventure, riding across enchanted realms."
– Thomas L Winkler, Gloryhammer
Ray has indicated that while LeGrand Bruit is secondary to Oblivion Myth and that for the time, 'Endure' is the only track the project has recorded; If 'Endure' does well, fans can expect to hear more from LGB.
Connect with LGB on Facebook (Facebook.com/OfficialLGB), Twitter (Twitter.com/OfficialLGB) and YouTube (Youtube.com/LeGrandBruit).
LeGrand Bruit's initial offering can be found on iTunes, Spotify, Reverbnation, AmazonMP3, eMusic and other major digital distribution outlets.
Links pertaining to this press release:
LeGrand Bruit
www.facebook.com/OfficialLGB
www.twitter.com/OfficialLGB
www.myspace.com/OfficialLGB
www.youtube.com/LeGrandBruit
www.reverbnation.com/OfficialLGB