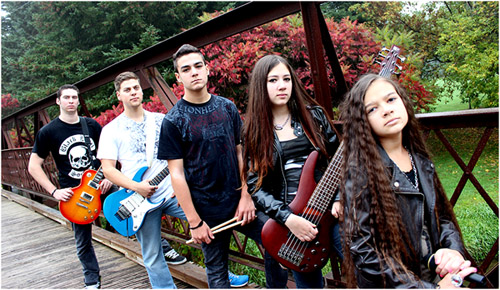 On Halloween, 11 year old Sara & Motion Device posted a video on Youtube.
They covered Black Sabbath's 'Heaven and Hell' and dedicated the cover to Ronnie James Dio
When Dio's facebook got wind of this video they posted it on in their timeline and the rest is history!!
The video has been liked over 11,000 times, shared over 4,000 times with more than 750 comments.
It has reached over 88,000 views on youtube in one week and still rising.
The video has also been posted on…
GuitarWorld: www.guitarworld.com/video-11-year-old-girl-covers-black-sabbaths-heaven-and-hell
Revolver Magazine: www.revolvermag.com/news/video-11-year-old-girl-performs-black-sabbaths-heaven-and-hell.html
Motion Device is comprised of 11 year old Sara on lead vocals, her 14 year old brother David on drums and their 16 year old sister Andrea on six-string bass and keyboards.
The band is rounded out by 19 year old cousin Josh and 19 year old family friend Alex on guitars.
They have caught the eyes and ears of some major celebrities along the way including Steven Tyler (Aerosmith), Alice Cooper, Zakk Wylde (Ozzy Osbourne & Black Label Society), Amy Lee (Evanescence), Dee Snider (Twisted Sister), Kelly Osbourne (Ozzy's daughter), Dave Navarro (Jane's Addiction), guitar virtuosos Steve Vai & Joe Satriani, and many more.
With over a 1/2 million views and 70 videos on their channel they're building a lot of momentum.
They also have a good number of originals that they plan to release on CD as soon as possible.
Motion Device has one mission and one mission only – to start a ROCK REVOLUTION!!
Website: motiondevice.net/
Youtube: www.youtube.com/user/OfficialMotionDevice
Facebook: www.facebook.com/pages/Motion-Device/294556137229437
Twitter: twitter.com/MotionVDevice
Soundcloud: soundcloud.com/motion-device