The new album "Ablaze" by Slovakian death metal squad PERVERSITY has been currently released via Lavadome productions. "Ablaze" contains 10 tracks of uncompromising, brutal and blasphemous death metal. A new
sample, song entitled "Blood Of Hastur", can be streamed or downloaded from band's bandcamp page at the following location: http://perversity.bandcamp.com
Album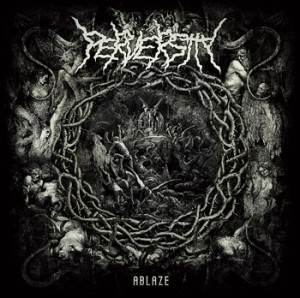 tracklist:
01. Reach Of Hell
02. Behind The Diabolical
03. Merciless Messiah
04. Hailing The Thieves Of Souls
05. Devoted To Perdition
06. Necrophiliac Beast
07. The Banished
08. Vzplanutie
09. Palace Of Skin
10. Blood Of Hastur
Total time: 34:40
The album can be obtained via Lavadome productions store.
Digital version will be available for purchase through iTunes, eMusic, Amazon and other digital media stores in upcoming days.
www.lavadome.org
www.facebook.com/perversityband