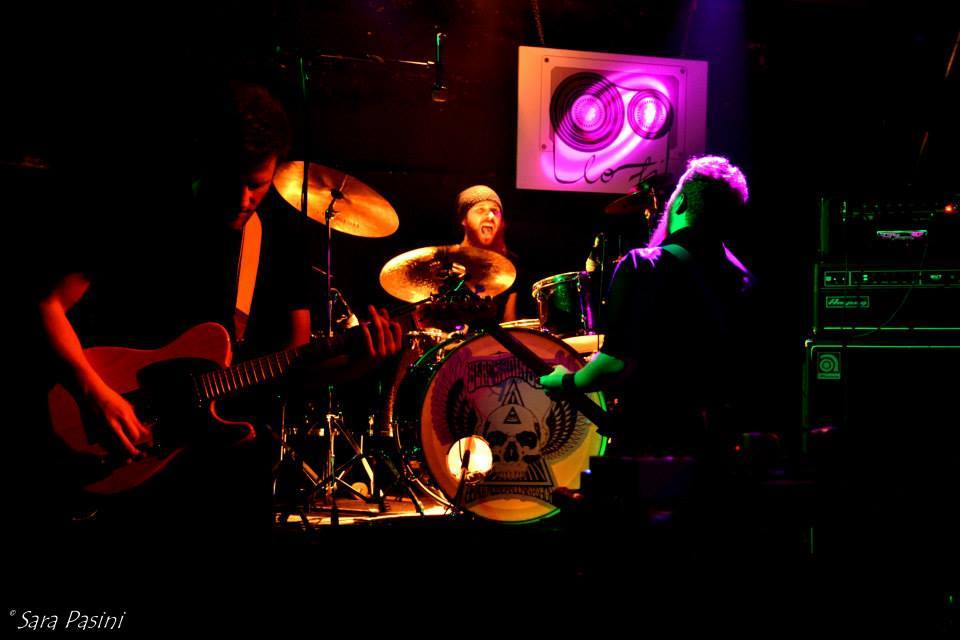 King Bong was born in the year of VIII, the breed of one night of wild intercourse between the Universal Evil and the very principle of Life. The Beast has claimed the intergalactic throne as his own and has immediately set course on a path towards immortality.
Between 2008 and 2012 the band kept on refining their sound, based on live playing and improvising and mixing a wide range of influences, including sludge, doom, blues, funk, noise and everything that inspires the three acolytes. The first album is entitled "How I Learned to Stop Worrying and Love the Bong", followed in 2010 by "Alice in Stonerland". Both were warmly received by critics and the audience alike with great praise and are now sold-out.
At the end of 2012 King Bong sign for Moonlight Records and create "Space Shanties", again recording live. The album is received with enthusiastic reviews and sales. The live shows bring the King on the stage with bands like Karma To Burn, Church Of Misery, Stoner Kebab, Obiat, Kadavar and Crippled Black Phoenix.
Today, the King is back with an even more ambitious work: a single 35 minute track, recorded live as usual and unraveling between doom, stoner and heavy psych, mixing many different influences. "Pinng – Or the Underwater Adventures of a Young Cthulhu" could be the perfect soundtrack to a Guillermo Del Toro movie.
Out on the 7th of April for Mother Fuzzer Records, an indepentend Stoner/Doom/Sludge label
King Bong FB: www.facebook.com/kingbongofficial
Mother Fuzzer Records FB: www.facebook.com/pages/Mother-Fuzzer-Booking/452252411559860
Mother Fuzzer Records BC: motherfuzzerrecords.bandcamp.com/