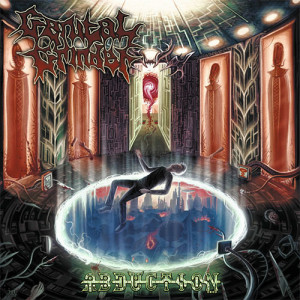 Eyes Of The Dead Prod.s is proud to unleash to the masses the new GENITAL GRINDER full length CD titled "Abduction". Fuck yes! These prime movers of italian death metal scene (they're active since 1990 under the monicker Mass Slaughter) are back and ready to kick our fat asses with a huge dose of hammering brutality.
Expect no less than an unrelenting storm of our beloved ultraviolence in 9 tracks of fast, brutal, grinding death metal in the veins of ABORTED, SEVERE TORTURE, CRYPTOPSY, BEHEADED and CANNIBAL CORPSE.
Featuring killer cover artwork of Mark / Mindrape Art.
Prepare yourself to BLEED!
Tracklist:
1. Arise
2. Red scream
3. Game over
4. Ufo
5. Undead
6. Start to run
7. Everybody killing
8. Terrifying eviration
9. Call of the Scarab
10. Serial killer (*)
11. Trial (*)
https://www.reverbnation.com/genitalgrindermn
https://www.facebook.com/eyesofthedeadprods?ref=hl